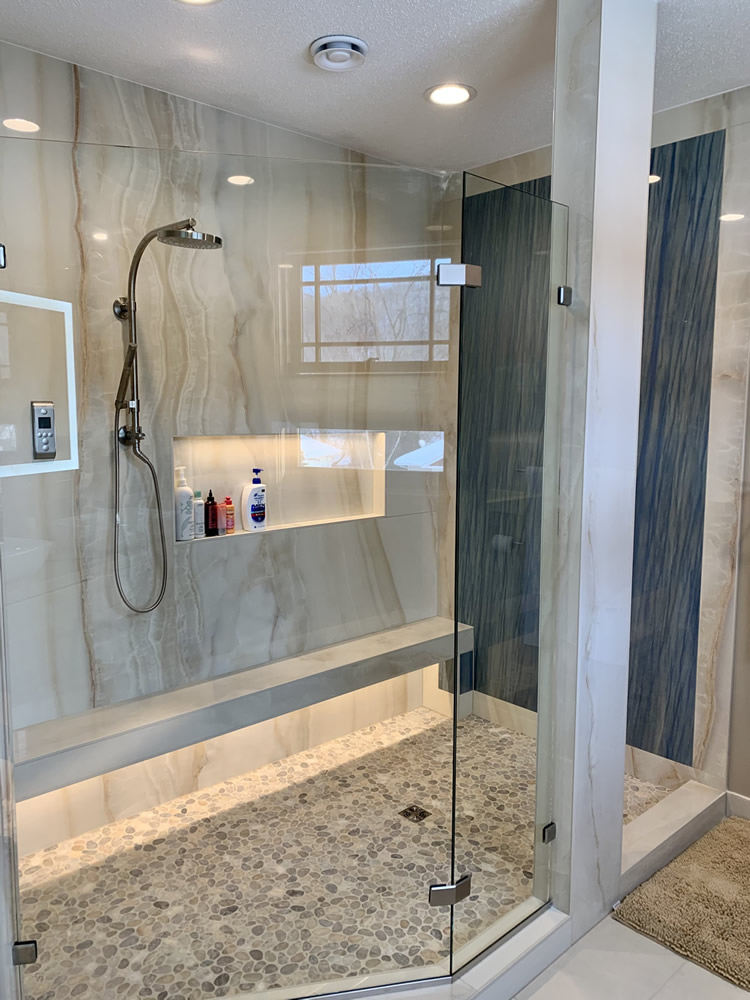 A letter from our customer
"The process started with an inspiration picture after many, many, many Google searches. But, after that gorgeous picture, how should we go about making it happen? The fixtures were not standard, our shower size was not standard, and — above all — the tile would be the art of the entire bathroom. We had no idea who made tile like we saw in the picture, who could procure it, or who could install it like craftsmen.
Enter Servais Tile & Stone.
We showed our inspiration picture to Troy & Jen, and the collaborative process began. They helped us with design choices for color, finish, and tile size. They found *amazing* 5'x10' tile (yes, that's FEET, not inches). They helped us choose the coordinating tile for the tile art centerpiece, shower walls, pebble shower floor, and bathroom floor.
Tile choices were one thing. In the shower, we also wanted a massive floating bench and niche—with motion-sensitive lights. The team at Servais Tile figured out how to construct the floating bench, including custom metal fabrication to make sure it doesn't move at all. They also recommended an electrician, Graf Electric, who would work with us for the in-shower motion sensitive lights. Servais Tile also recommended someone who could install the new shower glass wall.
Finally, with the design and planning work done, demolition began. The bathroom was taken down to the studs. New waterproofing was put in to make it as tight as a drum. There was a lot of construction debris, but this team laid down drop cloths and vacuumed up after themselves every day. *Every day.*
Jesse, our primary installer, is definitely a craftsman who cares about his work. He put in tile mop boards and lined up the grout lines with the floor grout lines perfectly. He carefully cut the holes for our plumbing fixtures and matched grain lines in the tile perfectly. He chose grout colors that completely blend in. He fixed drywall where holes were made. He showed up every day on time—even some weekend days to make sure we kept to the schedule.
Did I mention that the team cleaned up after themselves every day?
The product speaks for itself. The bathroom is not massive, but it is beautiful, elegant, clean, and modern. It looks like nothing we've seen before—and surpassed our original inspiration picture.
People ask us these questions "but where did you find tile like that?" Servais Tile found it for us. "How did you even know what kind of tile to look for? You don't see that at Menards." Servais Tile found it for us. "How did you do the in-shower lights?" Servais Tile found someone who could do it for us. "But can an actual grown up sit on that floating bench?" Servais Tile tested it with grown men jumping on it, so yes. "How did you know all 4 of these tile types would work?" It's always nerve-wracking, but Servais Tile gave us practical advice the whole way. "This is pretty clean for a construction zone." Servais Tile cleaned up every day.
We could not be more pleased with the fit, finish, and look of our bathroom. It is one-of-a-kind. Not only that, but I was additionally pleased when the entire project came in very close to the original budget. Troy, Jen, Jesse and the rest of the team were indispensable — I cannot recommend them enough."
~Ina F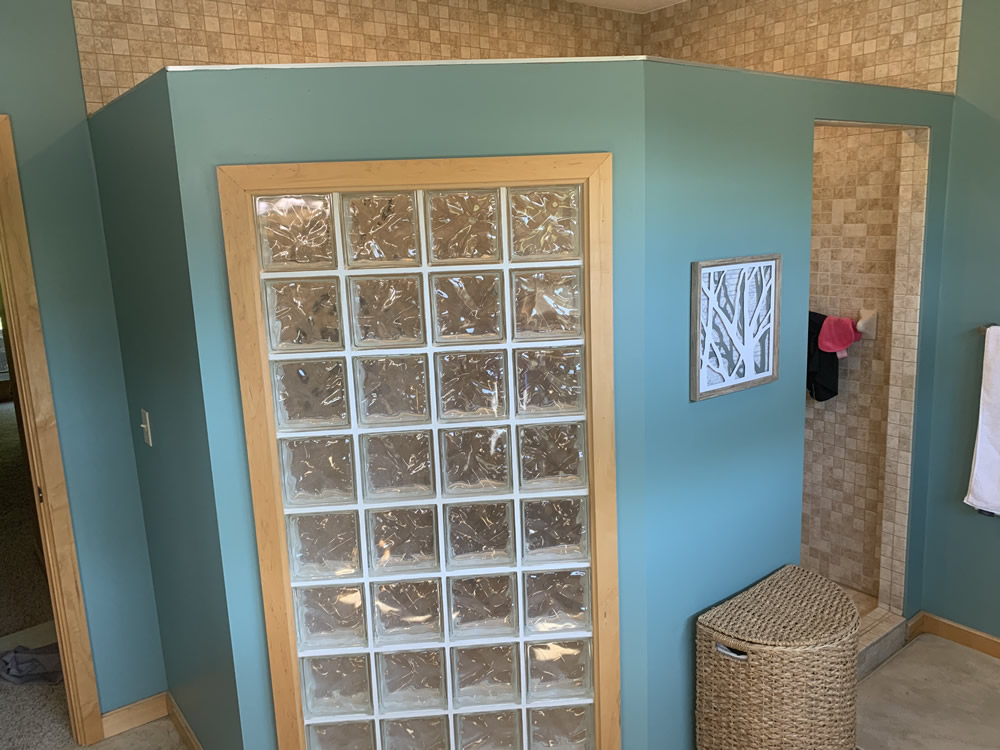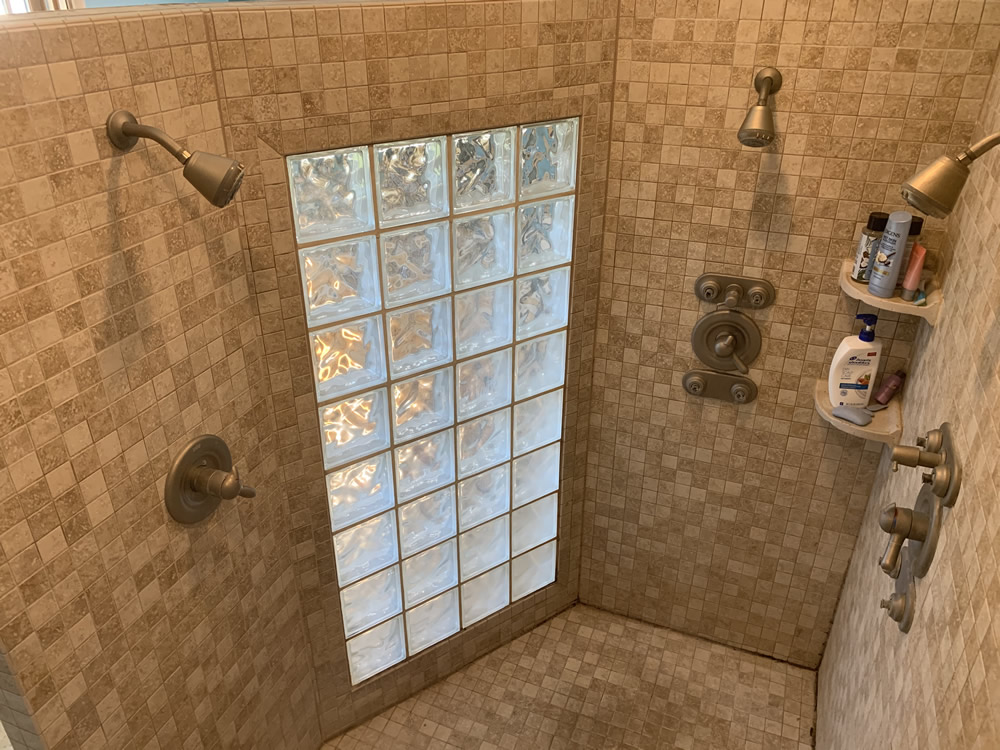 Written by Servais Tile & Stone, Inc.
About the Project
What started out as a website inquiry about repairing shower grout evolved into a beautiful project that was as memorable for us as it was for the homeowner.
Ina initially contacted us through our website about failing grout in their shower but upon inspection it was clear the problem was more involved than this. After deciding a new shower was needed, Ina presented us with a brilliant, unique photo she found online that was the inspiration for she and her husband, Steve's, master bathroom remodel. Her photo gave us the perfect opportunity to introduce Gauged Porcelain Tile Panels (GPTP). As Ina described, these GPTP are 5 foot by 10 foot pieces of porcelain tile that are very thin, only 6 mm thick! Gauged Porcelain Tile Panels are relatively new to the tile industry so we love it when we get to use them.
GPTP offer many great things, one of which is an impressive visual unlike any other on the market.
Ranging in color and style from neutral with soft undertones, to vibrant shades and elegant patterns, it's easy to fall in love with their look. They have been growing in popularity and are becoming the tile of choice for many commercial and hospitality areas, restaurants and residences across the globe. GPTP can be used for flooring, countertops, walls, wet areas and also for exterior applications. These large panels mean very few grout joints, which gives the seamless look Ina and Steve were after. An added bonus is that with fewer grout joints, cleaning is much easier than that of standard tile. After having lived with failing grout joints in their existing shower, the idea of tile with very few joints was definitely appealing to Ina and Steve.
After a brief discussion about GPTP, they became the obvious tile choice for Ina and Steve's shower and we were honored to be entrusted with their remodel project. Their wish was to have a focal wall in the shower that was visible as you walked into the room. They wanted a seamless look that was stunning, yet functional and that fit the space they had to work with. We selected the GPTP colors that gave the combination and design they were after, and coordinating the floor tile and pebbles fell into place. In a collaborative effort we are no stranger to, we worked on the overall shower layout with a plumber, electrician and glass company to make sure all Ina and Steve's wishes were feasible. With these decisions made, we shifted our focus to the floating bench the couple desired.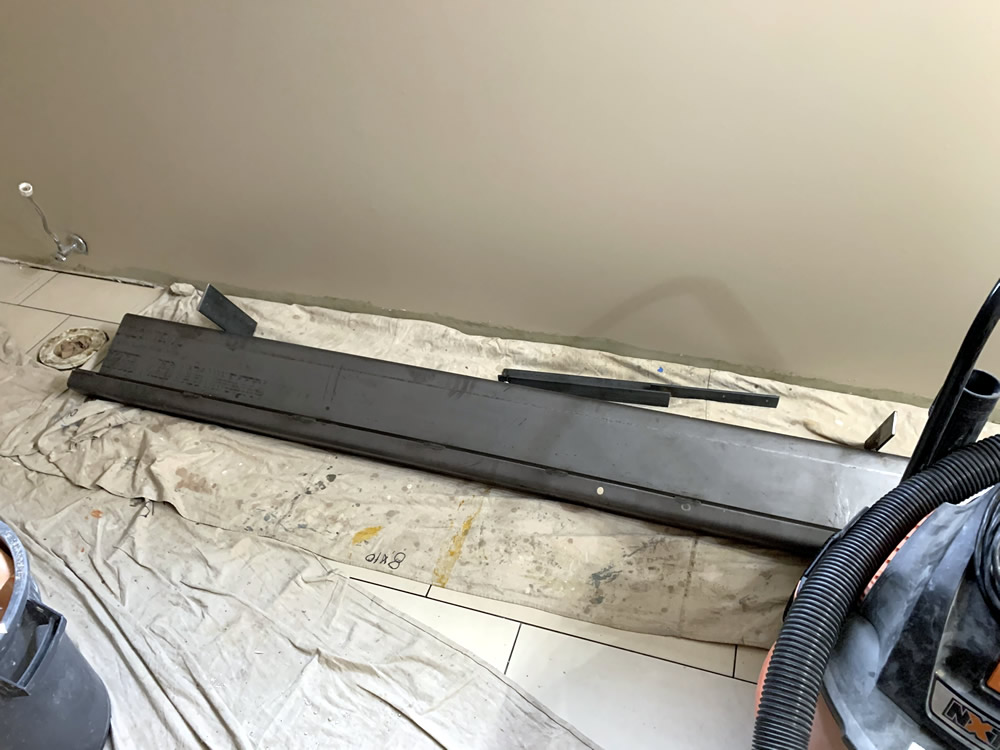 In a typical shower, we wouldn't hesitate to build out a section for a bench or add a seat to a shower corner, but this project was different. We had to have a floating bench that met many requirements. For one, the bench had to span the full length of the shower with minimal deflection to avoid cracking. It had to be sturdy enough to be sat on, but not interfere with the beauty of the focal wall. To accommodate the strength and resilience needed for the bench, we had a local machine shop fabricate a steel frame that we knew would withstand virtually anything. In order to make the bench blend into the wall, we decided to tile it with the same Gauged Porcelain Tile Panels, knowing detailed layout would be essential.
With these decisions all made, the project got under way and demo began. Construction sites are inevitably dirty and we take many precautions to control the dust and keep the worksites tidy and safe. Ina's reference to Jesse cleaning up every day is no exception to what we do on any job. Our installers have a great work ethic and take pride in their craft. Having a clean job site is an expectation they fully appreciate as well. Once demo of Ina and Steve's bathroom was complete, the new bathroom floor tile was laid and the plans for the Gauged Porcelain wall tile installation took shape.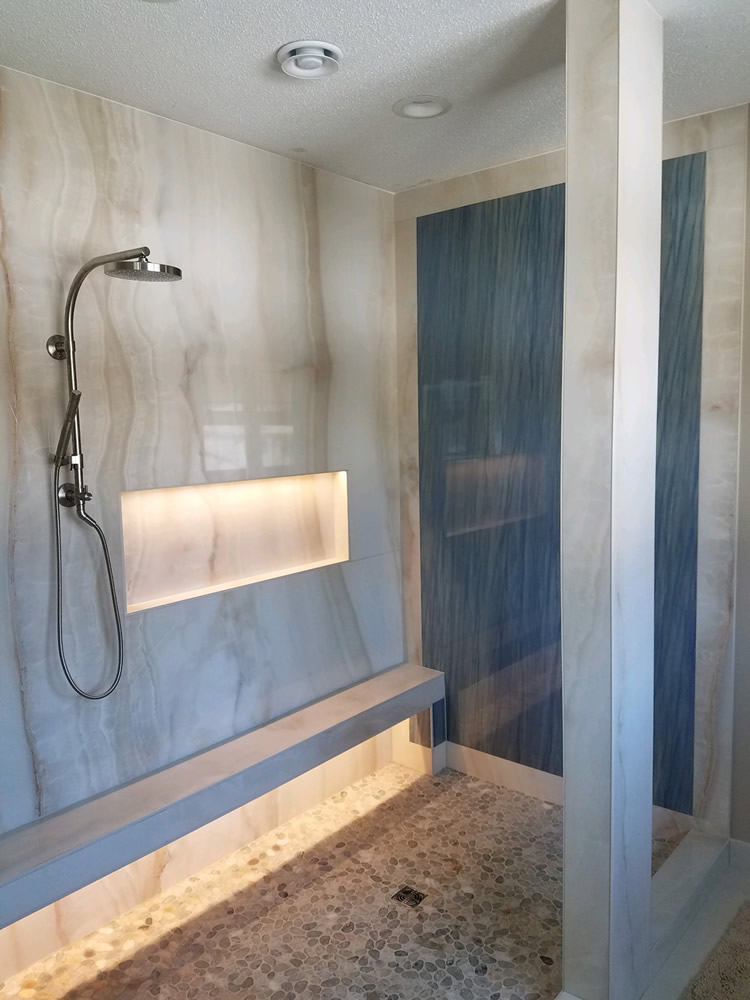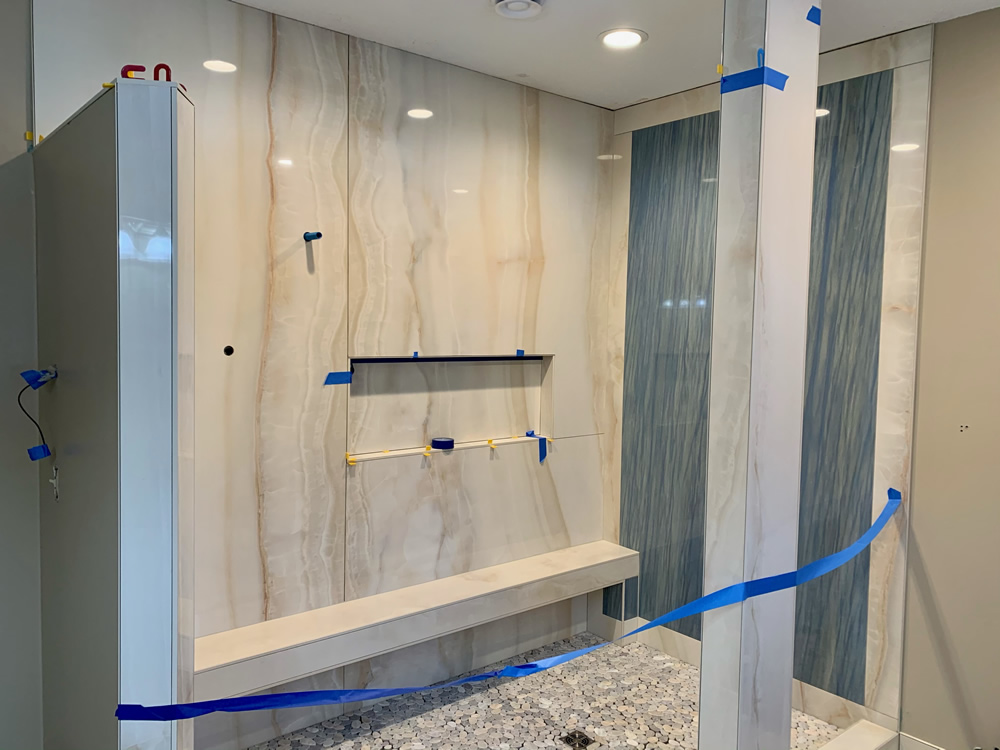 Gauged Porcelain Tile Panels require special equipment and handling due to their delicate nature. We have several installers that have received manufacturers training and certification for the installation of GPTP.
Transporting these large panels safely can be challenging but our experienced team is creative with problem solving. Ina and Steve's home required some careful maneuvering and planning, especially since their bathroom is on a second level, but the entire process was smooth. The GPTP were installed, the bench and niche were successfully finished to accommodate the lighting, and Ina and Steve's vision that started with an inspiration picture was finally realized.
Taking a customer's dream and making it a reality requires many considerations. Demolition, coordination with other specialty contractors, waterproofing, leveling of floors and walls, and making appropriate tile selections are all key to a beautiful end product. Having been a tile contractor for almost 25 years, every job is rewarding in its own way. Working with wonderful customers like Ina and Steve and having a skilled team to execute their vision is exceptionally fulfilling and memorable for all of us. We are honored to have been part of this stunning Gauged Porcelain Tile Panel bathroom remodel!