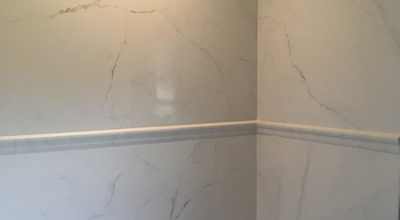 Glass Tile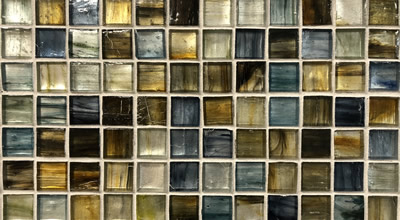 Glass Tile can be added as an accent or for an entire feature wall. It often comes in vibrant colors and has low water absorption, making it great for use in pools, shower walls, kitchen backsplash or bathroom walls.
Ledger Stone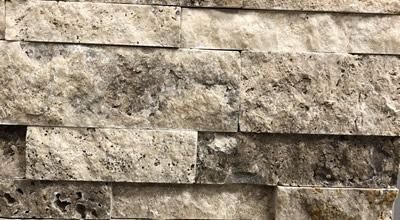 Stacked, natural stone which comes in many shapes, sizes and colors. Adds character and beauty to any space and can be used in both interior and exterior applications.
Large Format Tile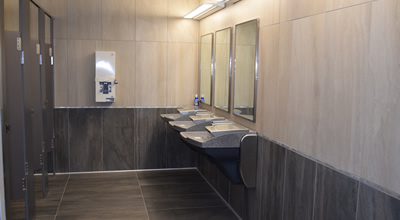 Defined as tile having any one side larger than 15 inches, large format tile is often appealing because of fewer grout lines and the option of offering a plank look
Gauged Porcelain Tile Panels

(GPTP)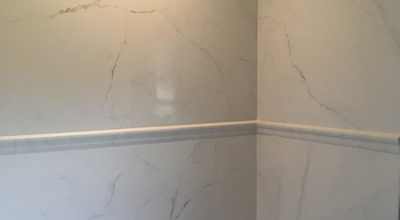 Tile larger than 36″ x 36″, typically 3'x 9′ or 5′ x 10′. These tiles are manufactured from 3.5 mm – 6.5 mm in thickness to reduce weight for installation. This product is gaining in popularity and can be used for interior or exterior applications. It creates a sleek, modern, seamless look and great option when few grout lines are desired.
Marble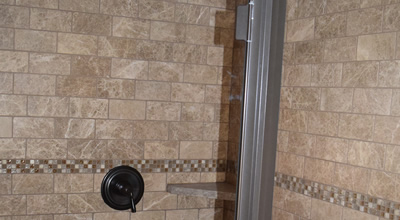 Naturally found, marble is ideal for foyers, bathrooms, floors, hearths, wall coverings, table tops, bathroom walls, vanity tops, tub decks, showers and windowsills. Marble should be cared for as you would a fine wood finish. Oils should not be used to clean marble as it is more subjective to staining. Marble requires more maintenance to preserve its natural beauty.
Quartz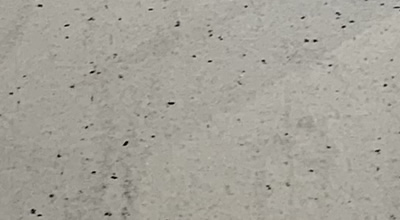 Quartz offers another solid surface option for use as a countertop. It is man-made, consisting of quartz chips or quartz dust bound together with resin, providing a more consistent, uniform look. Quartz is more likely to stain and chip than granite and is more susceptible to heat, but it still makes an excellent solid surface option for countertops. Quartz requires a little more effort in cleaning and maintenance to preserve its beauty.
Slate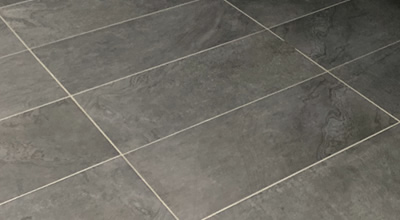 Offering a different, earthy look, slate is often used for flooring material and exterior pavers. It can be used for countertops, backsplash, bathroom walls, fireplace facings, table tops and roofing.
Limestone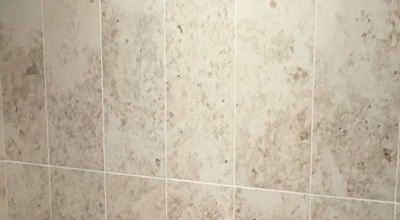 Widely used as a building stone, limestone is readily available and easy to handle. It can be used for countertops, flooring, interior and exterior wall cladding and exterior paving.
Travertine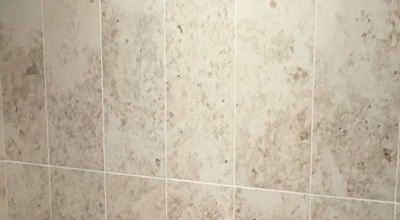 A type of limestone, travertine is the most popular natural stone for interior and exterior wall cladding, paving, statuary and curbing.
Granite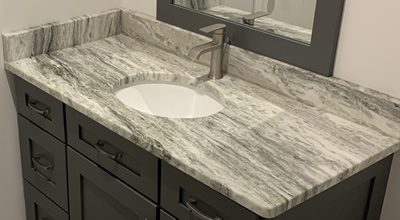 Second only to diamonds, granite is one of the Earth's hardest surfaces. Naturally beautiful, granite offers a variety of color in every piece and is virtually maintenance free. It is an excellent option for countertops and heavily used surfaces because of its resistance to bacteria, heat, scratches and stains. Granite is rated second only to stainless steel for safety against bacteria contamination. Most granites have naturally low moisture absorption rates so staining is normally not an issue, especially when highly polished. Granite cleans easily with mild soap and water.
Schluter Systems
Linear Drains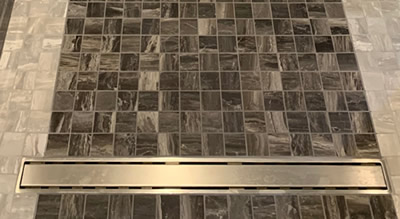 Used to create a slim line contemporary look and helps accommodate singular direction slope on shower floors. Suitable for wheelchair accessible showers.
Schluter Systems
In-Floor Heat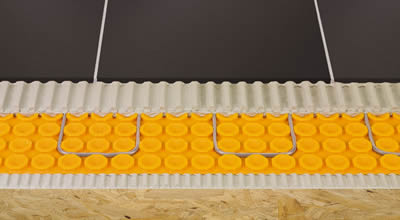 An excellent option for supplementary heat which can be incorporated in the tile underlayment.
Schluter Systems
Profiles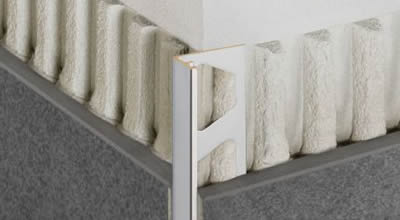 Because ceramic and stone tile edges can be brittle if left unprotected, a profile transition can be used between floor surfaces to prevent chips and cracks. A profile adds an element of design resulting in durable, maintenance-free tile edges. Profiles come in a variety of shapes, sizes, materials and finishes to virtually match any tile.