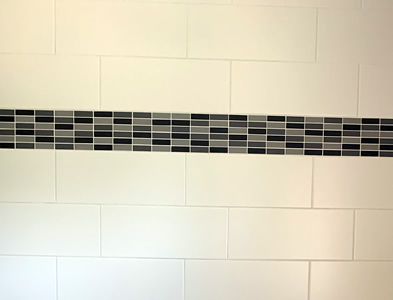 Tile Care and Maintenance
Routine Tile Care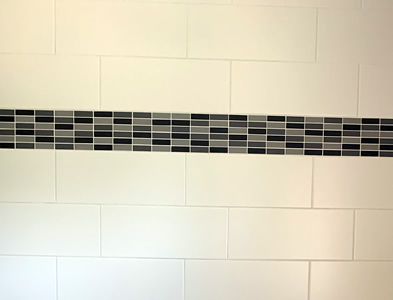 Always read and follow the manufacturer's instructions on products used.
DO NOT USE products containing AMMONIA as ammonia will discolor grout.
DO NOT USE products containing BLEACH OR ACID for routine maintenance.
DO NOT USE HARSH CLEANING AIDS like steel wool pads.
NEVER COMBINE AMMONIA WITH products containing BLEACH. Hazardous gases may result.
For GLAZED WALL TILE, wipe periodically using a sponge dampened with non-abrasive household cleaner.
For GLAZED FLOOR TILE, vacuum regularly to remove dirt and other gritty particles. Then, damp-mop or sponge with an all-purpose cleaner formulated for use on tile surfaces.
For UNGLAZED WALL OR FLOOR TILE, clean in a similar manner using a solution of water and soapless detergent instead of an all-purpose cleaner. DO NOT USE a cleaning agent that contains color on unglazed tile as it may discolor the tile.
IN BATHROOMS, a commercial tile cleaner can be used to remove soap scum, hard-water deposits and mildew stains. For hard water stains, a solution of equal parts white vinegar and water can also be used. It may be possible for hard water deposits on pool and spa tile to be eliminated by using a phosphoric acid cleaner every six months. Be sure to rinse areas well with water after any of these cleaning methods.
---
Heavy Duty Cleaning
Neglected or heavy traffic tile areas may require more intensive cleaning.
Clean GLAZED WALL TILE with a scouring powder or all-purpose cleaner applied to a non-metallic pad. Rinse and wipe dry.
For GLAZED FLOOR TILE, use a commercial tile cleaner or apply a strong solution of all-purpose cleaner or scouring powder paste to the area. Let stand for five minutes, brush and scrub, then rinse with clean water and wipe dry.
For UNGLAZED FLOOR TILE, use a scouring powder paste and apply to the area. Let stand for five minutes, brush and scrub, then rinse with clean water and wipe dry.
---
Professional Tile & Grout Cleaning and Restoration (Provided by Servais Tile & Stone, Inc.)
Using an ecologically friendly, commercial cleaning system we can clean your tile and grout without the use of any chemicals. Our 100% hypoallergenic method uses steam vapor to safely penetrate surface pores and force debris from every crevice. The low moisture content, super-heated vapor will clean and sanitize any tiled area, killing bacteria, mold and mildew. This method eliminates odors and restores surfaces. Can be performed in commercial, food-service or health-care settings or in residential areas where customers want to know their tile and grout have been cleaned, disinfected and sanitized.
Countertop Care and Maintenance
Granite and Quartz countertops are virtually maintenance free and can be cleaned with ease. If a spill occurs, blot the area with a paper towel, as wiping with cause the spill to spread. On the rare occasion that a stain is left, flush the area with plain water and mild soap several times and dry thoroughly with a soft cloth.
Clean surfaces regularly with mild soap and water or a store bought cleaner designed for use on granite and natural stone. Thoroughly rinse and dry all types of countertop surfaces after washing.
DO NOT USE cleaners containing ACID such as bathroom cleaners, grout cleaners or tub and tile cleaners on any stone countertop.
DO NOT USE any cleaners with AMMONIA on any stone countertop.
DO NOT USE LEMON JUICE or other cleaners containing ACID on marble, limestone, travertine or onyx surfaces.
To keep granite looking new for years to come, wipe frequently with either a granite and stone cleaner, a mild soap and water mix, or an ammonia-free window cleaner.
To clean badly soiled countertops, apply a solution of scouring powder and very hot water. Let stand for five minutes, then scrub and rinse.